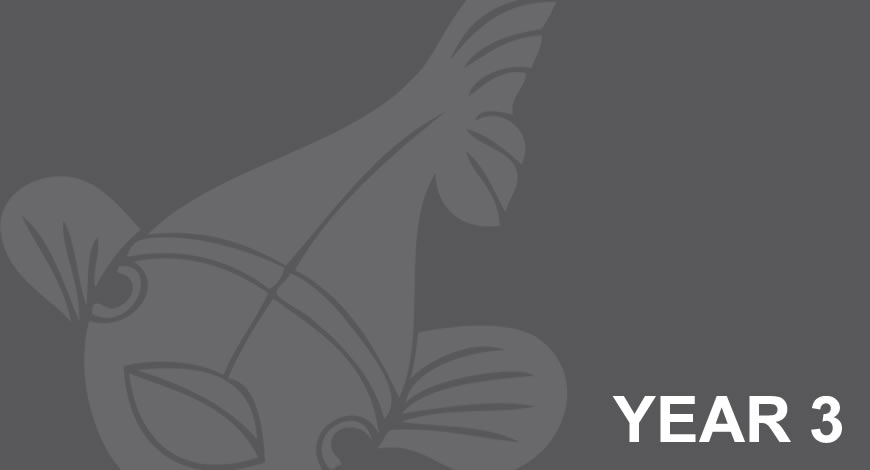 Year 3
Croeso i Flwyddyn 3! Welcome to Year 3! Year 3 pupils are encouraged to develop confidence and start to become independent learners! This year's teachers in Year 3 are Mrs. Northcott and Mr Pike. Mrs. Pugh Bevan will be working with both classes to ensure that you receive the best learning experience.
During the Autumn term, our topic is "Spirit", in which we will be learning about the Olympics and focusing on Health and well-being. We will be finding out about some Olympic superstars, including some from Wales! We will also be developing our outdoor environment. During the Spring term, we will be learning about the life of Betsi Cadwaladr and about the history of hospitals and medicine. We will learn about the emergency services. During our Coastline topic we will find out how to look after our local environment and how to enjoy it safely. We will learn about the creatures that live in that habitat and how to safeguard our coast. Our Summer topic will be Beat Band Boogie which will allow our pupils to let their creativity run wild.
We will have our P.E. sessions on Workout Wednesdays so remember to bring your kit for these fun sessions.
Year 3 Staff
What We Are Proud Of
Growth Mindset Philosophy
We wholeheartedly believe that all children can achieve, we just have different starting points
Enriched Curriculum
We are very fortunate to have a staff of experts in various fields that assists us in enriching our curriculum. This includes: using the locality, onsite enrichment through external companies and partners, off site visits and residential trips
STEM
To inspire the next generation of Engineers and Scientists, we utilise projects such as the Green Goblin Car competition and links with industrial partners such as Renishaw to enrich our Science, Technology, Engineering and Mathematics curriculum
A School for All
Our inclusive and ALN based philosophy with supported individualised education at its heart
Developing Teachers and
Leaders of the Future
As a school we have a philosophy of continual professional development of our staff. We are privileged to be a Lead Training School for Cardiff Metropolitan University for their PGCE and BA Ed teaching students
Curriculum for Wales
We are an adaptive, creative thinking, risk taking staff who are willing to think outside the box to provide the very best education for our pupils